AK 98 Dialysis Machine
Designed to be an optimal platform for chronic dialysis, skilled nursing and hospital care environments.
Connect with us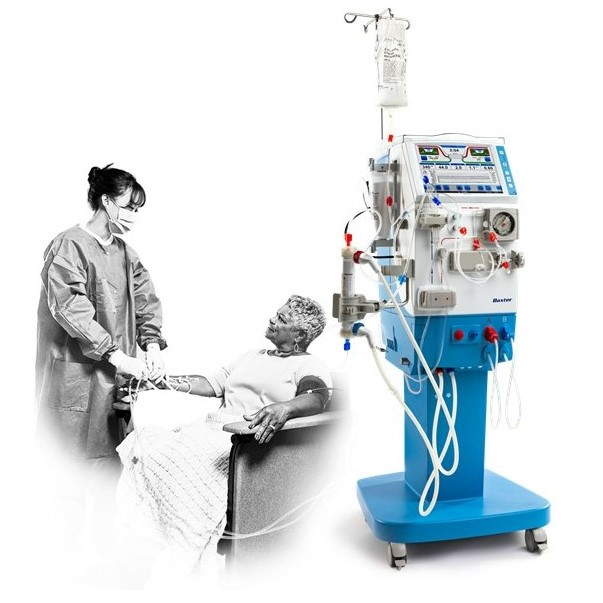 Relentless innovation brings simplicity and reliability to hemodialysis
It's simple. Meaningful innovation should make the lives of its users easier. That's why we designed the AK 98 dialysis machine to be our most convenient and reliable hemodialysis machine ever. Its unique features and innovative design help simplify treatment with fewer steps, protect patient safety by helping to potentially reduce programming errors, and minimize disruptions and downtime. All of this "less" adds up to more operational and cost savings for your facility.
As the newest innovation within our HD portfolio, the AK 98 dialysis machine is an important piece of the total support that Baxter, as a partner, brings to advance kidney care. Because you deserve nothing less than everything.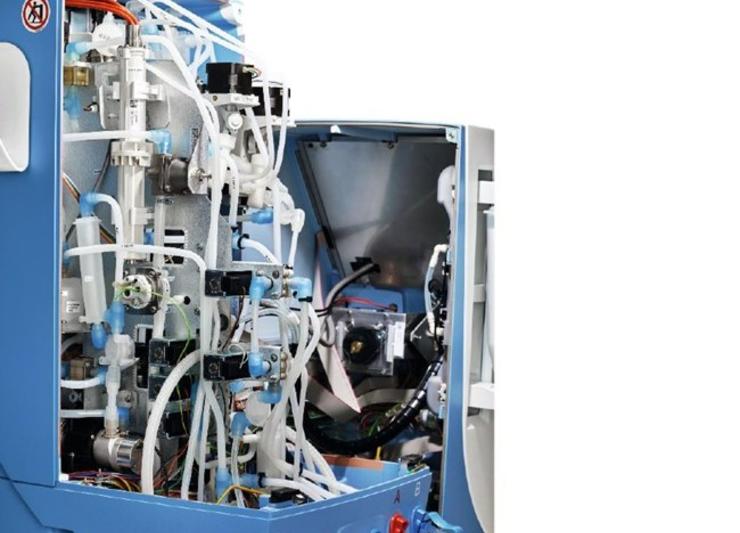 Less cost and downtime
Concentrate standby mode uses zero concentrate, which could mean annual savings up to $139/machine (500 mL/min start flow).1
High-precision ceramic concentrate pumps and electromagnetic flow meters means no pH probe needed and no moving parts to calculate flow rate. 
Preventative maintenance is only required every other year.
1. Data on File. Baxter Healthcare Corporation.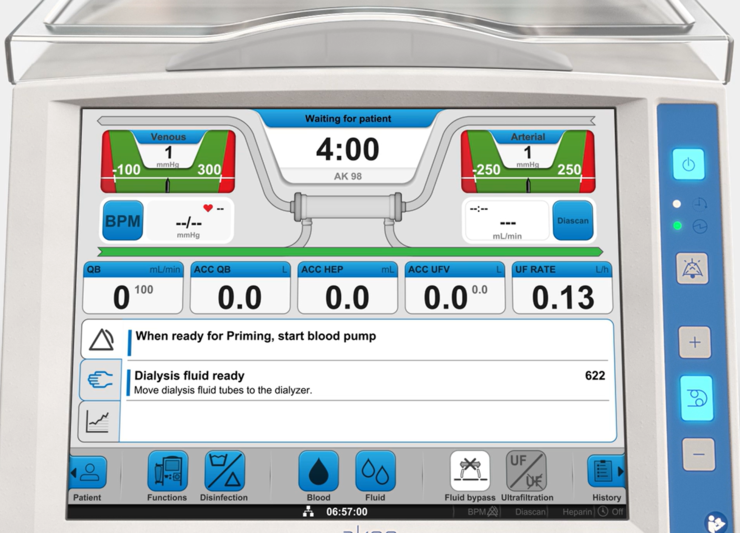 Less complexity
Intuitive, app-like interface designed to simplify treatment with fewer steps and guide you every step of the way.
The open system allows fast, familiar setup by a technician or a nurse, allowing greater flexibility and utilization of staff time and resources.
"The machine is very convenient and the instructions on the screen make it very easy to use."
- Demi Miller, Certified Hemodialysis Technician (CHT)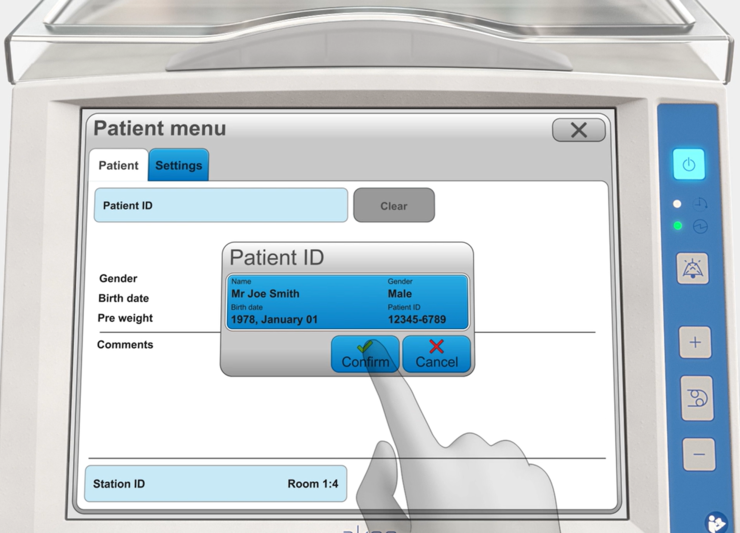 Less error risk with enhanced patient safety features
Two-way, HL7-based connectivity allows direct push-pull capability between the machine and your EMR to potentially reduce errors and save time from manual entry.
Battery back-up provides up to 30 minutes to move the machine around after setup. During this time, the blood pump continues running (the dialysate pump goes into stand-by mode) and treatment info is retained.
SmartSense alerts enable the machine to self-clear nuisance pressure alarms and avoid unnecessary stoppage of treatment due to brief pressure fluctuations often related to patient movement.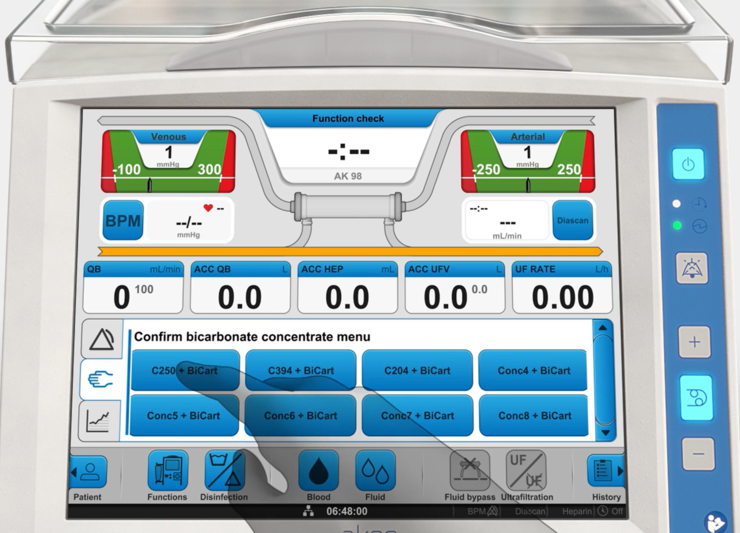 Less restriction
Able to provide all therapy options – conventional 3x/wk, short daily, or nocturnal.
Capable of both sodium and bicarbonate profiling allowing for smooth and constant adjustment.
Disinfection routines shut off automatically and do not require user attention or handling of chemicals.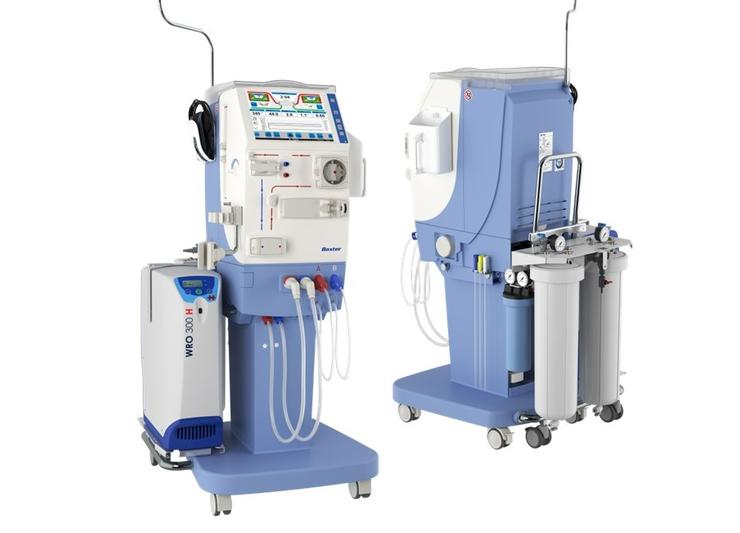 Less bulk
Our smallest HD machine - up to 49% less space and 22% less weight than competitive machines1.
The compact size and reduced weight, with Shelf Extension Kit for portable RO transport with the machine2, saves space and makes it easy to move around.
1. Data on file. Baxter Healthcare Corporation. Comparison to FMC 2008T BlueStar and B. Braun Dialog+ machines. 2. The AK 98 dialysis machine and Shelf Extension Kit are sold separately. Mar Cor WRO 300 H portable RO system and PTG-520 Carbon Block sold separately by Evoqua Water Technologies LLC.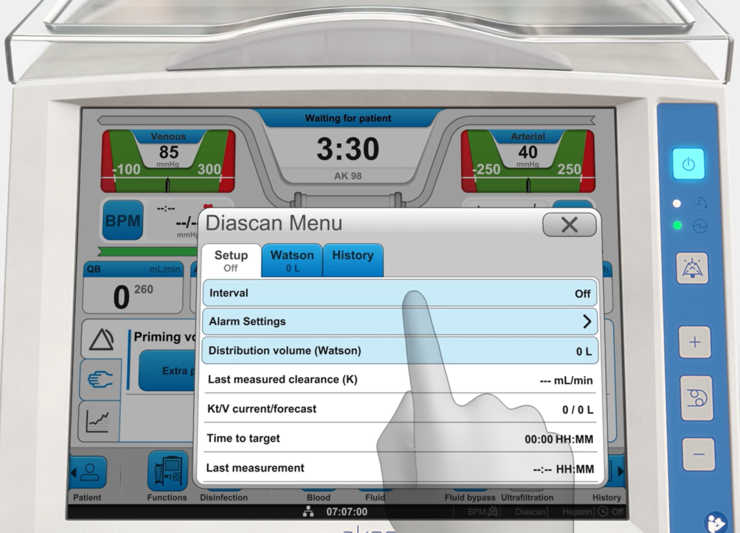 Less inefficient treatments
Studies show that consistently reaching the adequacy target may reduce the risk of all cause mortality1-3. Monitoring Kt/V in each treatment can help identify trends in dialysis efficiency sooner than in monthly labs.
The Diascan function calculates if the desired and minimum values for Kt/V, set by the operator, can be reached by treatment end.
"I love the Diascan feature. I'm able to be much more proactive about patient care with this."
- Michelle Crawford, RN, Director of Nursing
1. Held PJ, et al. Kidney Int, 1996; 50:550-556. 2. KDOQI Clinical Practice Guideline for Hemodialysis Adequacy: 2015 Update. Am J Kidney Dis. 2015; 66(5):884-930. 3. Tattersall J, et al. Nephrol Dial Transplant, 2007; 22(Suppl. 2):ii5-ii21.
Resources and Downloads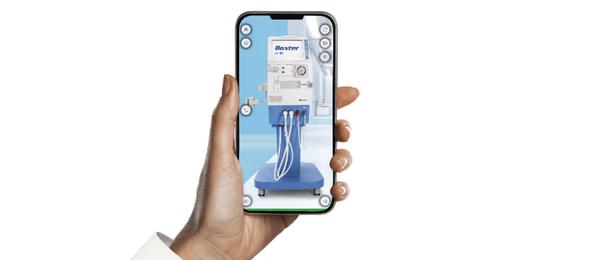 My AK 98 App
Your virtual companion that guides you through AK 98 operation.
Learn more and download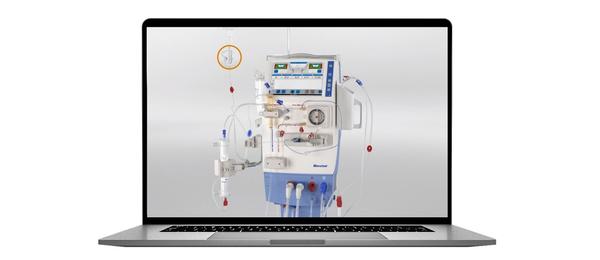 AK 98 Training Videos
Short, animated training videos for on-demand learning that complements your current in-field training.
Watch training videos
24/7 Technical Support
Experienced technical staff to help with machine troubleshooting, with response time within 24 hours.
Medical Information
Experienced clinical staff who can provide clinical and scientific information that can support clinical decision-making, with response time within 24 hours.
Customer Service
Helpful customer service staff who can assist with orders, including our eServices Center to browse and order Baxter products, retrieve invoices, and monitor account activity.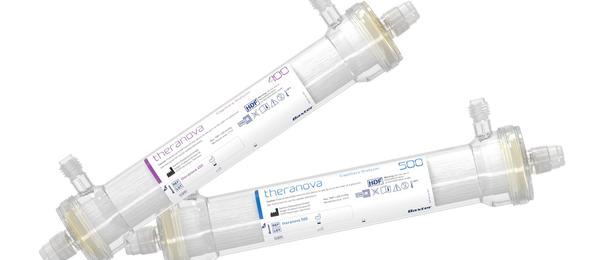 Theranova Dialyzers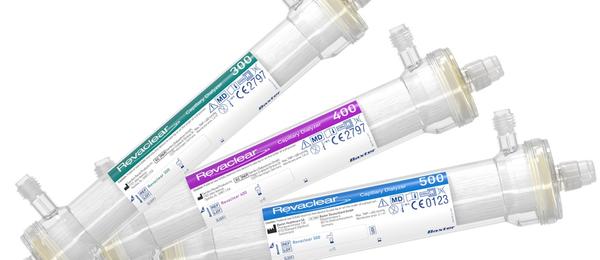 Revaclear Dialyzers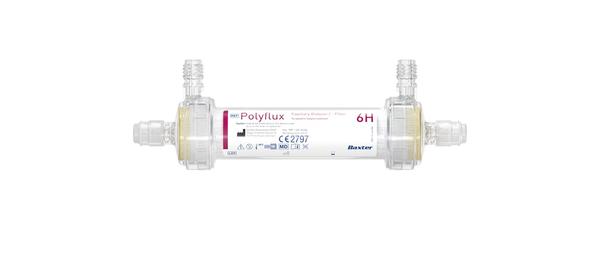 Polyflux 6H Dialyzer
Indications: The AK 98 dialysis machine is intended to be used for intermittent hemodialysis and/or isolated ultrafiltration treatments of patients with chronic or acute renal failure or fluid overload upon prescription by a physician. The AK 98 dialysis machine is indicated to be used on patients with a body weight of 25 kg or more.  The AK 98 dialysis machine is intended to be used by trained operators when prescribed by a physician, in a chronic care dialysis or hospital care environment. The AK 98 dialysis machine is not intended for Selfcare or Home use.
Rx Only. For the safe and proper use of the products mentioned herein, please refer to the appropriate Instructions for Use or Operator's Manual.